Source:
TUAW
,
Twitter
,
CNN
.
Earlier, we learned that a store clerk's life was saved when his HTC Android device saved his life by stopping the bullet of a robber. Now, we learned that an iPhone cable saved the life of a Los Angeles sheriff deputy. This isn't the first time we've heard of smartphones saving the lives of their owners.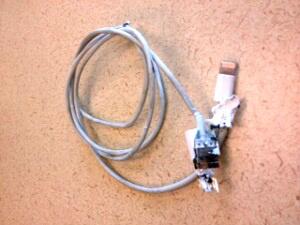 Maybe I should start wearing my tablets and smartphones when I venture out. Maybe the Google Glass will save someone from a head shot. Who knows, right?
Back in 2007, an iPod saved the life of an US soldier when it stopped the bullet from an AK-47 fired by a terrorist. Then again last year, another soldier who was hit in the leg was lifted away for medical attention. The iPhone in his pocket deflected the bullet's trajectory away from his femoral artery. Had it been severed, he would most likely have died.
By the way, supposedly HTC will replace the clerk's damaged phone with an HTC One. Now how I'd want to get a new phone but I'm glad in all instances, the victims were all able to get away with their lives if not walk immediately away from it.